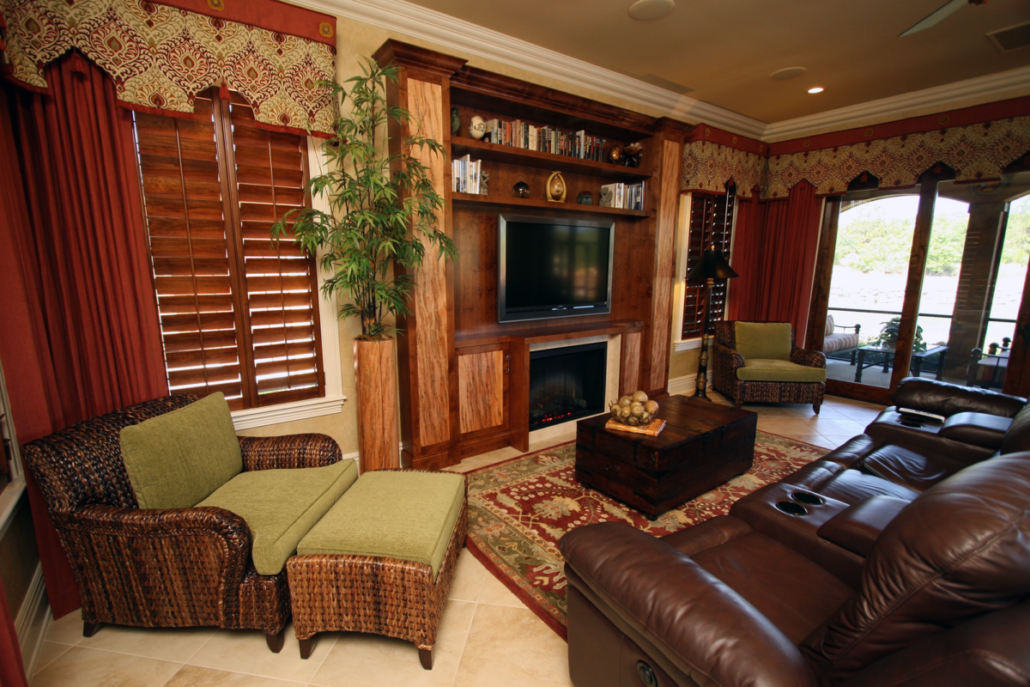 The plot seemed simple enough. Steve and Liz Berry decided to move from St. Mary's, where they'd lived for decades, to St. Augustine, a town the couple had grown to love, and needed to find a new home. Liz was pretty specific about what she was looking for: a house in a neighborhood. Since their St. Mary's home was a little like living in the country, she wanted the family, which includes 13-year-old Elizabeth and 9-year-old Eli, to feel a sense of community where they lived (Steve also has two grown children, Katie and Kevin, from a previous marriage). Steve, however, thickened the plot with a list of far more complex requirements. Having gone through the painstaking process of building multiple custom homes and without knowing any contractors in the area, he challenged their realtor to find an existing house, one that was move-in ready, didn't need significant repairs or remodeling and would be understated enough to allow them to make the house their own.
"We looked at 15 to 20 houses and as soon as we walked in this one, I said, 'This is it'," Steve recalls. Liz certainly didn't need much convincing. "I could have lived in a tent on a piece of property as long as we had neighbors nearby, sidewalks and other kids around," she says. But at first glance, the dull, brown stucco exterior, stark white walls, simple decor and lack of window treatments didn't exactly resonate with her as it did with her husband. It's not surprising that a blank canvas would appeal to him. As the author of 12 novels, including New York Times best sellers The Alexandria Link, The Venetian Betrayal and The Charlemagne Pursuit, Steve has crafted a career out of bringing empty pages to life through imagination, passion and vision. A blank slate of a house should be no different.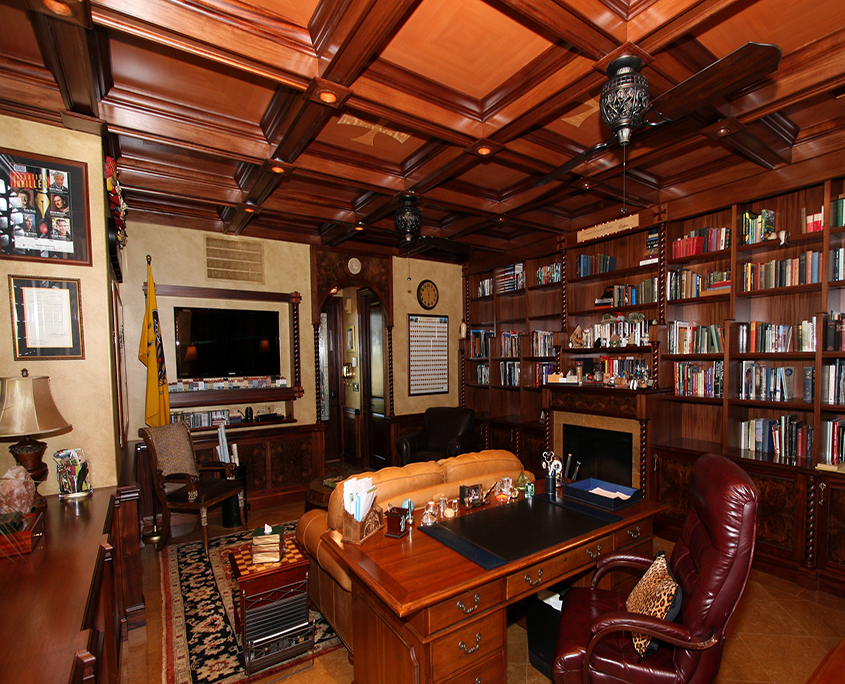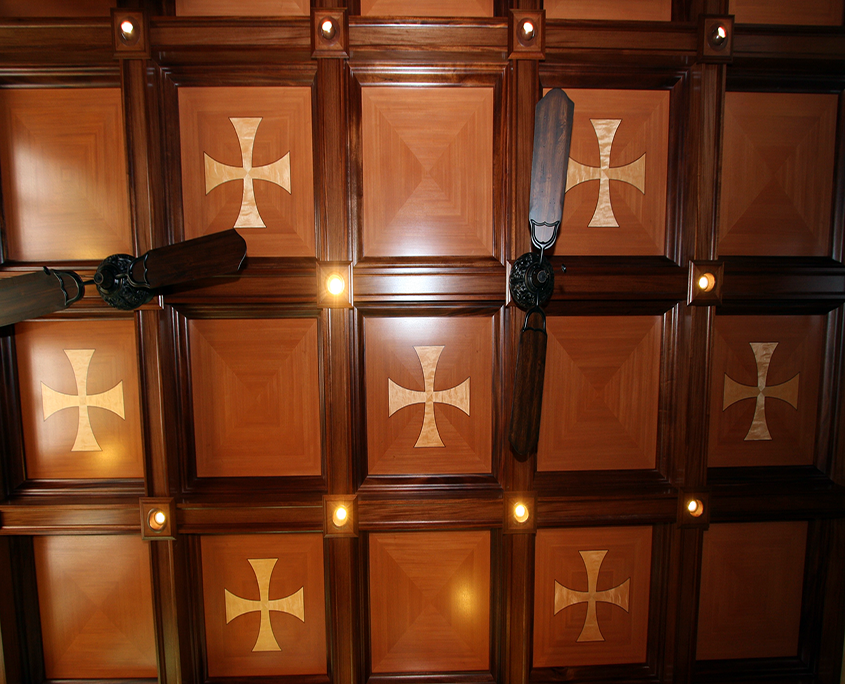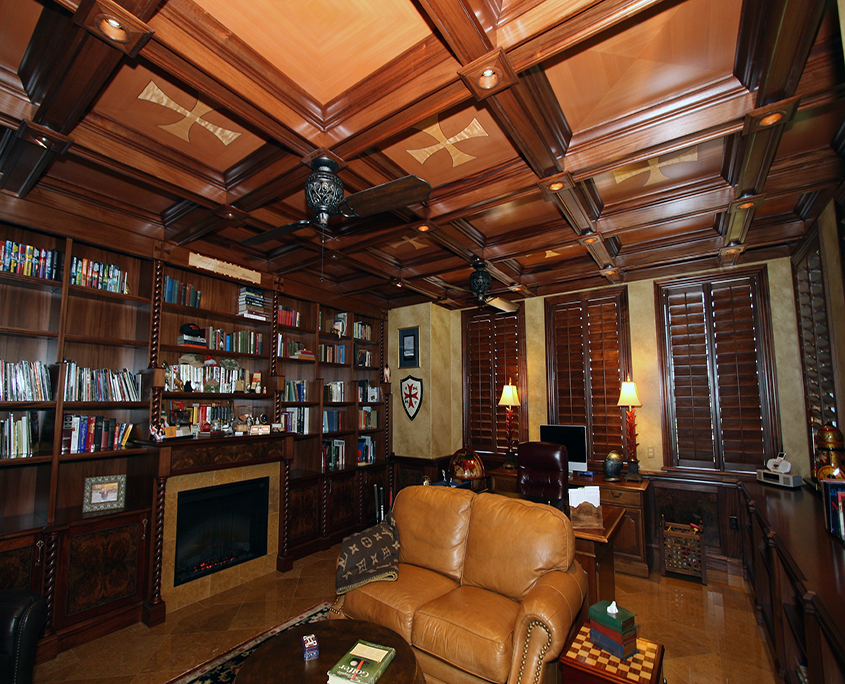 After pulling together a talented design team, the Berrys decided they wanted to convey two specific themes throughout the house—comfort and meaning—but with an element of surprise.
"The number one thing was I wanted the house to feel cozy," Liz says. "I wanted [visitors] to be able to plop down [in a chair] and be comfortable." Though creating a "cozy" atmosphere was no small task, considering the Mediterranean-style main house encompassed more than 4,700 square feet and opened into a soaring two-story foyer and living room overlooking a swimming pool, lake and a world-class golf course, World Golf Village's King & Bear.
To immediately establish a more welcoming atmosphere and create the look of a Tuscan villa, the brown stucco exterior was given a faux finish to resemble crushed stone. Inside, the Berrys built upon the hospitable environment with their choice of colors and textures in both fabrics and finishes.
In the living room, ocher-washed walls and the warm glow of the chandelier and sconces filled the space with light. They toned down the jarringly white fireplace with a subtle paint treatment and the addition of a hearth. A mix of antiques and newly-acquired furniture gave the space a sense of both formality and familiarity.
The eat-in kitchen and adjacent family room are similarly inviting with pieces like a banquette, leather recliner theater seating, chosen specifically for ease and comfort, pendant lamps over the breakfast bar and table lamps for additional lighting. The family room is also one of the best examples of the Berrys' desire for meaning within their home. Liz says she and Steve told the design team early on that they weren't going to bring items into their house just to fill up space on a wall or sit on a coffee table. They wanted each accessory and knick-knack, artwork and objet d'art to mean something to them personally, whether it's  a collection of stones from Denmark (where Berry's main protagonist Cotton Malone "lives"), a pair of ostrich eggs they picked up on a family vacation to Walt Disney World, a ball from their first cricket match in the UK, Berry's prized collection of James A. Michener first-edition books or a golem made from mud they bought in Prague (golem alert: one such creature from Jewish folklore will be making an appearance in Berry's upcoming book, The Columbus Affair, scheduled for release in 2012. You heard it here first, folks.)
While Steve and Liz's treasures collected from around the globe certainly make their home unlike any other, the most fascinating aspect might just be the elements that visitors don't seem to notice.
Take, for example, Steve's office. Gazing at the intricate ceiling—Templar crosses made of maple inlaid in black poplar; mahogany cabinet veneers with subliminal images of butterflies, crosses, and dog's faces burnished into the wood; and Jerusalem gold limestone flooring that contains practically imperceptible fossilized remnants of leaves, insects, and shells—it's nearly impossible to believe the space was once a two-car garage.
In the master bathroom, one barely notices point-of-view art from Steve's books, such as keys, the Eiffel Tower and Charlemagne's crest intricately embedded in the Venetian plaster; nor the extra door in the guest powder room which leads to a "secret" room Liz uses for storing holiday decorations; or even the fact that virtually every inch of the house, inside and out, is painted with a faux finish.
Though, when you think about it, it's not all that surprising that the Berrys' home would be filled with mysteries, surprises, and deception. Steve is, after all, a fiction writer.